The Story
We started looking for land about 3 years ago.   While our current house is fine, we found it in 3 days after having never been to this area before.  After living here a while and getting to know the area, we started developing a wish list for our ideal property and house.  We've had bad experiences with Homeowner's Associations at this house and our previous one, so we really wanted to get out of a neighborhood.  David really wanted some acreage for a pond and room to play.  I wanted more land so we're not looking directly at houses in all directions.  Schools weren't a priority when we moved here because B was just over a year old and we moved so quickly.  We started researching schools which narrowed down the areas we wanted to move to.  While we are close to David's work now, I wanted to be a little closer to the city where we do most of our shopping.
Finding land proved to be harder than one would think.  Larger tracts in the desirable areas are overpriced because most people still think a developer will buy it for a fortune and turn it into a subdivision.  Large acreage in our price range was usually out in the middle of nowhere and/or in bad school districts.  Distance from David's work was also a factor.  He was fine with a longer drive, but we don't want him in the car for over an hour each way.  Based on the type of house we'd like to build, we were also concerned with what was or could be around the land.   We didn't want our house to look out of place and we didn't want to worry that a subdivision, trailer park, or something commercial might go in next door.  That alone ruled out a lot of properties.  We were also hoping to find something that wasn't just open field and maybe had a view of some sort.  There were times I thought we'd never find something.  We quickly realized we were going to have to compromise size for price and location.
Last fall, 4 acres came on the market that caught our interest.  It is 417′ square at the top of a ridge between 2 small mountains.  It was very overgrown, but there was a great view down the street in front of it which we thought we'd be able to see from the land once it was cleared.  It is in one of our desired school districts and is only 10 minutes from where we do most of our shopping.  David's drive will be about twice as long as it is now, but he's made that long of a drive in the past.  There are large properties all around it, but it's right on the edge of town.  There are a lot of subdivisions nearby and if the market picks back up, this land could eventually be one of the few acreage properties in the area.  From a property value standpoint, we thought it was a good choice.  There are 4 houses around it, but none are close to the property line and they all have enough land that we shouldn't have to worry about anything being built closer.  Our main concern was whether it was worth the price per acre.
In February, we went out and walked it while everything was still dormant and we could get around easier.  There are a lot of big boulders laying around which made us concerned about how rocky it might be underneath.
It was still hard to get an idea of the entire property, but we were able to get a glimpse of the potential view to the NE.  You can faintly see the mountains in the distance.  Once we get it cleared out and the house is built up, we think we will have a great view.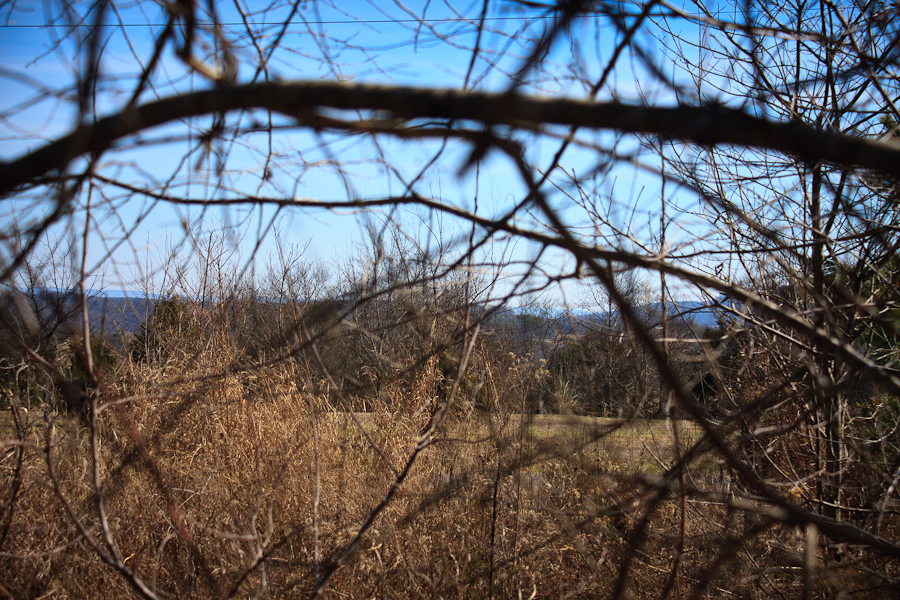 The fantastic view east from the street which we think we'll be able to see from the house . . .
Then, in early June, the seller dropped the price 20% after clearing about half of it.  The asking price was now less than what our top offer likely would have been.  We went back out to get another look and walk it again now that some of it had been cleared.  Although only the front half had been cleared, we were able to get a better idea of the topography.
Looking SW from near the middle . . . (In all pictures, I try to make a point of holding the camera level so that you can see the slope.)
Looking south . . .
Looking West . . .
Looking NE . . .
We then worked with our agent to write up an offer.  One of our contingencies was that it had to be suitable to build on.  Before we closed, David met with our first choice in builders and he didn't foresee any major problems.  Everything went smoothly and we closed on it last Friday.  Meanwhile, our house has been on the market since March and we will not start construction until this house sells.  Once our house sells, we will move into a rental until the new house is done.  In the meantime, we are hoping to get the land cleared so we can walk around easier and get a better idea of where to put the house.  We may also start working on the house design so that once this house sells, we will be able to start on the construction.
Since all of our family and friends are out of state, I've started this blog to keep them updated on the progress.  I'm also using it as a journal for myself to document the process.