Tons of Stone
We went to the Nashville Home Show yesterday along with a few other places.  Unfortunately, the Home Show was disappointing.  It was smaller than the local one here and there wasn't really anything worth seeing.  There were several builders, but we weren't there for those.  Most of the booths were remodeling related – cabinet refacing, add on sunrooms, etc.  There were almost no appliances, fixtures, etc like you would expect.  About the only interesting thing we saw was this garage door screen.  It has it's own track so it's not in the garage door's way.  Thought it might be nice for the future detached garage.
I also took some pictures of a Nudura ICF display since we often get questions about the ICF blocks.  They go together like Legos, then are filled with concrete.  All of our first floor exterior walls will be ICF (except for the garage) along with all the walls of the Master Closet/Storm Shelter.  The remaining exterior walls will be 6″ studs with spray foam insulation.
We also stopped at The Tile Shop.  They had a good selection with nice displays.
This was The Kid's favorite bathroom.  I'd like to do something a little fun with his bathroom, but nothing that he will outgrow or get dated.
Here's a potential Mud Room and Laundry room floor tile:
I'd like to do something similar to the following tiles in our bathroom:
Mom and I liked this next tile, but Dad and David didn't like the price too much!
This green bathroom was fun, but I'm leery about using too much color on anything permanent like tile.
We also like this bathroom as a possible Master Bathroom inspiration.  I'd probably make it more gray and less beige though.
This would also be a nice bathroom tile.
The next 2 would be a nice alternative to the gray limestone for our bathroom.  They are both really smooth and should be easy to clean.  Not sure what we'd put on the floor though because I think these would be too slick.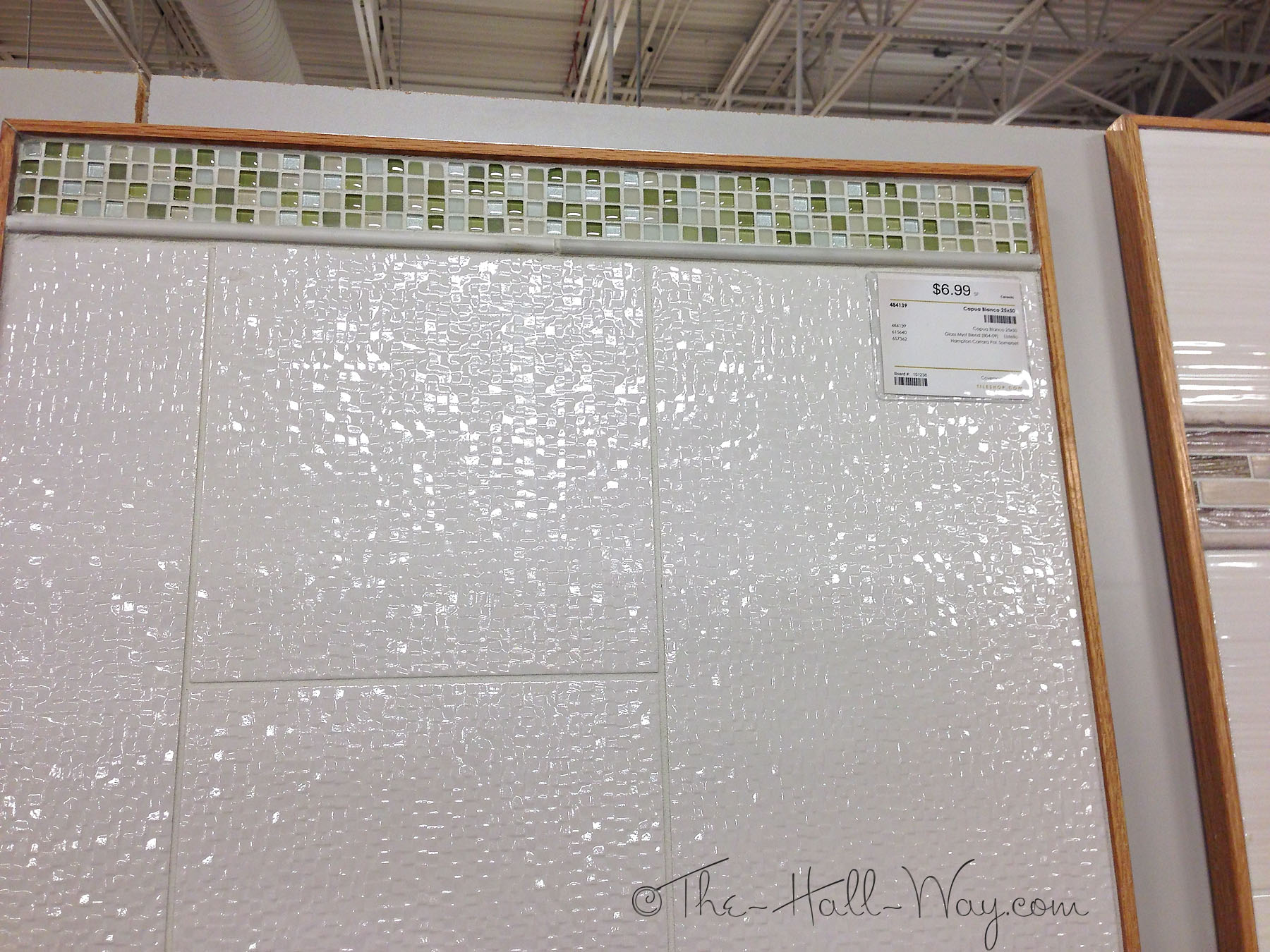 There's a large flooring warehouse there that had some inexpensive flooring options.  Most of the tile was under $3/ square foot.  We found several that might work for the mud room, laundry and possibly extra bathrooms.
They also had a strand bamboo that I had ordered a sample of online, but still haven't received.  It's called Acorn and it's a nice medium brown with some variation.  The price was great and it's probably near the top of our list now.  We bought 2 samples of it at the store and I'm hoping I'll still get the one I ordered.
The picture I took is a little light.  It's somewhere between these 2 pictures.  
We spent the most amount of time at the granite and stone warehouse.  The warehouse was huge (80,000 sq ft.).  I wrote down names for about 16 slabs that I liked and took pictures of them.  The first one we saw is one of my choices for the kitchen perimeter – Marron Labrador Honed.
I absolutely loved this slab – Mari Blue with a leathered finish.  It was a gorgeous mix of blue, white and sparkling silver.  It would incredible on the island although I've been planning on something lighter.  Pictures don't do it justice, but all the silver in it sparkles.
The next one I had seen online, but not in person.  It's pretty similar to the Kosmus granite I had seen in their warehouse here.  This one is called "Metallic" and it's a mix of black, copper and what looks like liquid silver.  Very sparkly.
Here it is in a leathered finish which was also very pretty.
I was also trying to look out for white, fairly plain granites and this was on I liked.
This is another one that I absolutely loved – Azul Aran.  Another gorgeous white, blue and silver mix.
They also had it in a leathered finish.
I believe the next pictures were another slab of Azul Aran in another part of the warehouse.
Here is another simple one – Peacock Green.
This next one looks like sand with purple and green in it – "Wild Sea".  I probably wouldn't use it in our house, but it was pretty neat.
 Here's another white granite that's pretty – Bianco Antico.
This next one is a marble called Cappuccino.  I loved the gray shades and all the movement.
This is Renoir Quartzite and a nice alternative to marble.
Another simple white – "River White"
Sea Pearl Quartzite is a beautiful white and green:
Another white – Crema Antartica:
Unfortunately, they only sell to fabricators, so I don't have prices on any of these.  I have a pretty good idea of which ones are more expensive though.  They had a pretty good selection of remnants in the back so we could probably get pieces for the bathrooms there when the time comes.  This week should be more of the same along with a trip to the local Home Show.