Ahead of Schedule
We received an email last night saying they would be able to start clearing the land this morning – a few days earlier than expected.  We dropped the kid off at school and got to the land around 8:15.  They had just unloaded the dozer from the semi trailer right before we got there.  David had marked a few trees the other day, but we wanted to circle the property one more time to mark a few more.  We started walking around the time the dozer operator started clearing.  We walked for about 30 minutes and came back around to find he had cleared almost 1/2 an acre in that short time.  The second of our 4 future neighbor's came to introduce himself, so we talked to him for about 15 minutes.  By the time we left, it had been an hour since he started and he had almost an acre done.  It was very impressive.
We ran to Best Buy and ended up running back by the land before we went home.  We got back about an hour after we had left and he had almost half of the land cleared already.  We could now see from the street all the way to the back property line.  It's strange how it made it seem both smaller and larger.  This picture is looking North along the West property line.
Looking NE from the SW corner.  The white fence is along the East property line.
Looking East along the road.
Looking South along the West property line.
Looking SE from the NW corner.  This was right before he knocked down the pine tree in the center.
Here's a video of him knocking that tree down:
Looking North along the West property line.  Pine tree gone!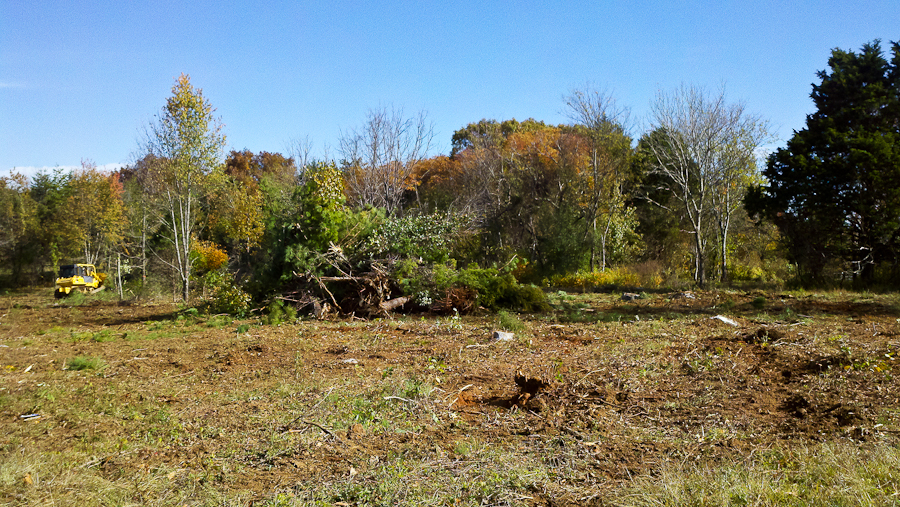 They had estimated that it would take 2 days to clear the trees and move the large rocks, but we are wondering if he didn't get most of it done today given how fast it was going.  We are planning on going out there again tomorrow morning to see how it looks.