Finding The One
A trip back to the plumbing supplier this weekend ended up having the added bonus of us coming across another granite option for our island.  I had a coupon code for an extra 15% off the kitchen faucets I have picked, so I wanted to go see them in person again in case I decided to order them.  I'm not sure how I missed this countertop the first time – probably because I was still planning on using the Cambria Praa Sands on the island and was too busy looking at the faucets and not the countertop.  They have a large working faucet display with 4 5-6′ long trough sinks.  All of their displays have different granite countertops from different local suppliers.  This one was from one I hadn't visited yet and was a granite we hadn't seen before.  It was similar to the New Azul Aran that was one my list, but it has a lot more white in it.  One of my concerns with the New Azul Aran was that it didn't have much white and the slabs we had seen weren't that spectacular.
This was beautiful and has all the colors I was wanting – shades of grayish-blue, taupe, white and charcoal.  It also has sparkles in it.  The backsplash (below) is made from the same granite stacked with the rough edges exposed.  That really makes the sparkle show up.  This picture also has the faucet I have picked although ours will be polished nickel with a 9″ reach instead of the 11″ shown on this one.  We'll also have the matching metal control instead of the white porcelain one.
They had it labeled as "Pedini Blue".  I searched for it online when we got home and literally couldn't find anything about it anywhere.  Most stones have multiple names so that it's difficult to price match.  I was pretty sure that was the case here.
Yesterday, I ran to the warehouse who supplied it for the plumbing showroom.  They had at least 6-7+ slabs of it.  I took a couple quick pictures of the first slab and it's label.  Some more searching online and I confirmed that it's real name is "Lennon".
They are going to email me the price for it, but I'm fairly confident from our conversation that it's not going to be as high as some of the others I had picked.  I think it's going to be around the price of the Cambria quartz I was originally going to use.  Below is a picture of most of the samples I have.
Top to Bottom: Cambria Praa Sands Quartz, White Ice Granite (left), Kosmus Granite (right), Lennon Granite, Antique Brown (Marron Cohiba) Granite, Bianco Antico Granite.
Here is a close up of the Bianco Antico.  It's very similar to the Lennon, but without the blue.  You can see the sparkle on the cut edges and it's also visible on the polished surface in person.  I may still use this in other areas of the house.
This is Marron Cohiba, also known as Antique Brown.  I've been planning on this for the white perimeter cabinets of the kitchen.  The samples are both polished, but we will probably have the counters be honed or leathered.
Here is my new sample of Lennon.
This is Kosmus.  It's mainly black with a lot of silver "glitter" in it.  This is pricey, but "Metallic" is very similar and less expensive.  I think it would be neat to use somewhere in the house.
This is White Ice.  Unfortunately, my samples don't have the blue in it.  Slabs of this are mostly white, but they also lack any sparkle so I had mostly ruled it out for the kitchen.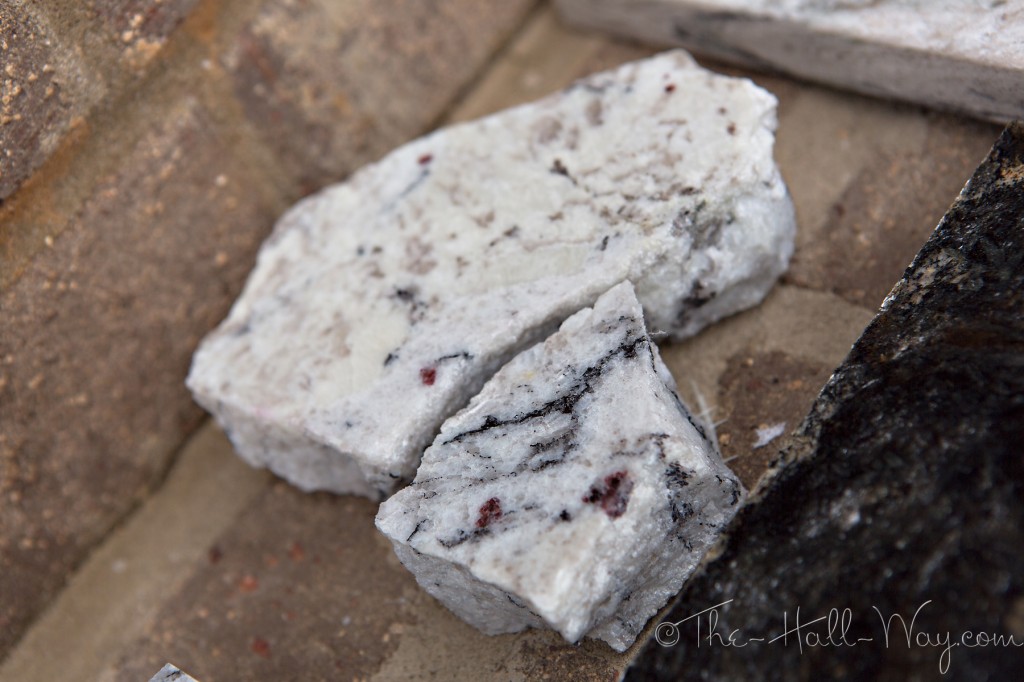 Below were the finalists for the island.
Top to Bottom: Bianco Antico (L), White Ice (R), Lennon, and Cambria Praa Sands Quartz.
I had pretty much narrowed it down to New Azul Aran (don't have a sample of it) or Bianco Antico for the island with Marron Cohiba for the perimeter.  I think Lennon has knocked the other 2 off this list though.
I've also been trying to decide on the colors for the sinks.  The main sink will be the Blanco Silgranite Precis Super Single Bowl.
I think we are going to use the Blanco Rondo for the prep sink.  It's around 16″ across.  This one is shown in Anthracite which is their metallic black color.  Silgranite is a granite composite which is really durable, easy to clean and scratch resistant.
My question is, since the countertops will not be the same, should the sinks both be the same color or coordinate with their respective countertops?  Below are the choices.
Marron Cohiba granite on the left, Lennon granite on the right.  In the middle from top to bottom, Blanco Silgranite Anthracite, Cinder and Metallic Gray.  Cinder is a new color that just came out.
I've been leaning towards the Metallic Gray for the main sink, but I don't know if it would stand out too much in the Marron Cohiba countertop.  The Marron Cohiba is gray and brown so neither the Anthracite or Cafe Brown colors look right.  The new Cinder color is closer and might work ok.  It was suggested at the granite wareshouse yesterday that I use the Cinder for both sinks.  It does also go with the Lennon granite although I prefer the look of the Metallic Gray with it.  Either one would be fine though.  The picture below has both stones with the Metallic Gray.
On a related note, when I got to the stone warehouse yesterday, the 3 women in the front office started gushing about how great our builder is when I told them who we are using.  This is, by far, not the first time this has happened.  The second question (after "How Can I Help You?") is almost always "Who is your builder?"  Virtually every time we answer, we get unprompted praise for how great he is to work with and the high quality of his work.  We already knew this, but it's always good to hear it from other people.  🙂
We received our second custom cabinet estimate.  Our builder thought the first one came back too high, but the second one was almost double.  I figured it would be higher than the first, but not that much.  I'm also waiting on a semi-custom estimate which I think I should receive today or tomorrow.  Interested to see how it compares.  We may end up doing a mix of custom and semi-custom.
Meanwhile, I'm trying to get information for another bank we are considering.  They were supposed to call me back Friday to let me know if they'd do our loan.  I left another message yesterday afternoon, but still haven't heard anything.  I'm going to call him again here shortly and let him know we need an answer ASAP so we can proceed with our loan.  If they won't do it, we'll go back to the farm bank where we've already applied.  I just need to get them our final plans and the builder's contract.  We were going to go Friday to the stone yard to pick the exterior stone for the house, but that may have to wait another week because we have a long list of other stuff to do that day.  The stone yard is about 90 minutes away, so it won't be a quick trip.  If we can decide on a bank before then, we could sign the builder's contract on Friday.  All we are waiting on now is the loan process.  As soon as the bank can close, we can get started on the construction.